FDLA is proud to support the Lyme Disease Challenge!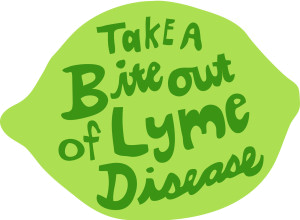 Lyme in the South Music Fest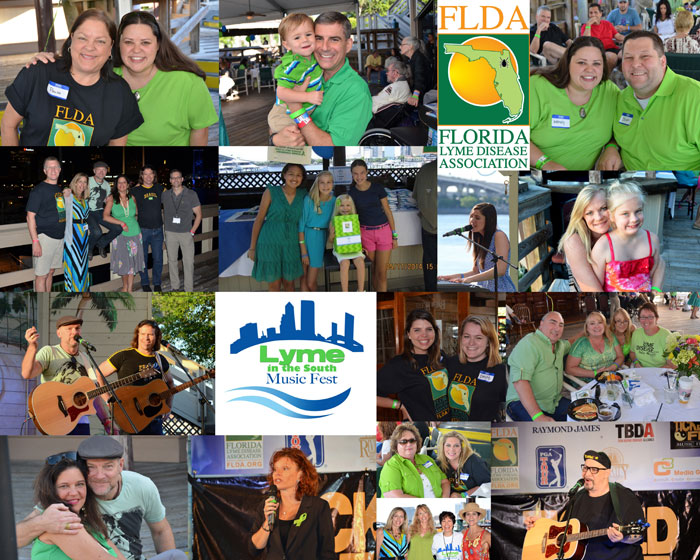 With your generous support, the 100% volunteer run Florida Lyme Disease Association (FLDA) has tirelessly worked to spread awareness about the risk of Lyme and other tick-borne infections in the state, advocate, and raise funds for much needed research and doctor training.
As a recap, for the first time ever, FLDA was successful in obtaining proclamations declaring May 2014 as Lyme Disease Awareness month not only for the state of Florida, but also numerous cities, towns and counties throughout the state. FLDA was able to obtain donated billboards in 3 prominent locations throughout the Jacksonville area for the entire month of May. We are hoping to expand these initiatives next year.
On May 17, 2014, FLDA partnered with Ticked Off Music Fest to present the Lyme in the South Music Fest in Jacksonville, Florida. The primary goals of the Music Fest event were to drive awareness about the risk of Lyme Disease in the South and fund research. The music line-up featured Pat DiNizio, front-man of the Smithereens and Les Stroud from the "Survivorman" TV series. The event also show cased musicians and speakers from the Lyme community, including Gregg Kirk of the Zen Engines, musician Alisa Turner, author Katina Makris, and researcher Dr. Kerry Clark among others.
We are pleased to report that we were successful in generating significant publicity, including a story featuring Dr. Kerry Clark on CNN, donated billboards for the Music Fest, multiple local television and radio segments, newspaper articles and a featured story in Jacksonville Magazine. The event was well attended by a crowd of approximately 300 throughout the afternoon and evening. The event was well attended by a crowd of approximately 300 throughout the afternoon and evening. Our first year event raised over $18,300 in net proceeds, $14,250 of which was designated to support the ground-breaking research initiatives of Dr. Kerry Clark. We also donated $1,000 to TBDA. FLDA used the remaining proceeds to help sponsor Florida doctors to attend the ILADS conference in Washington DC last October. Thank you to all of you who generously volunteered, attended the Music Fest and/or donated funds to this cause.
Throughout the year, FLDA has posted daily updates with the latest research and news to the FLDA Facebook page which has grown to over 1,500 followers with an ever expanding reach each week through direct views and shares by others. FLDA has helped to facilitate and/or publicize support group meetings throughout the state. FLDA has responded to online and phone inquiries for those seeking assistance with finding knowledgable providers, support groups, or other guidance. With your help, we can continue to overcome the misconception that "there is no Lyme in Florida," help train more medical care providers, and fund much needed research.
Lyme Disease is one of the fastest growing infectious diseases in the nation. The disease is caused by the bite of a tick infected with the spirochetes bacterium Borrelia Burgdorferi and may be complicated by other parasites or co-infections, such as Babesiosis, Ehrlichiosis, Rocky Mountain Spotted Fever, Tularemia and Bartonella. Certain co-infections require different treatment after being infected with Lyme.
Lyme Disease is often called "the great masquerader" because of its ability to mimic other illnesses. Early in the infection patients may have flu-like symptoms including headache, stiff neck, fever, muscle aches, and fatigue. Early symptoms usually disappear and serious multi-systemic problems may start later. Late symptoms include: "Lyme Arthritis" with joint pain and swelling; heart disease; neurological problems such as Bells Patsy; dizziness; irritability; ADHD-like symptoms; memory and concentration impairment; word finding difficulties and muscle weakness. The symptoms can imitate other diseases such as Lupus, Multiple Sclerosis; Parkinsons, and Lou Gehrig's (ALS) and may be misdiagnosed.

University of North Florida Brooks College of Health Donation
On Tuesday, May 8th, NEFLA presented a $20,000.00 contribution to the University of North Florida Brooks College of Health to support the research of Dr. Kerry Clark on lyme and related tick borne disease in the southeast U.S. From left to right Dane Boggs, Aimee Boggs, Dr. Pam Chally, Dr. Kerry Clark and Dr. Pierre Allaire. More photos coming. Also in attendance NEFLA Board members Andrea King, Joe Crozier, Mary Jaycox and Julie Klapstein.