Formerly The Northeast Florida Lyme Association
The mission of the Florida Lyme Disease Association is to improve the prevention, diagnosis, and successful treatment of lyme and related vector borne disease through education of the public and healthcare providers and support of scientific research.

Find us on FaceBook
 
Lyme Disease is one of the fastest growing infectious diseases in the nation. The disease is caused by the bite of a tick infected with the spirochetes bacterium Borrelia Burgdorferi and may be complicated by other parasites or co-infections, such as Babesiosis, Ehrlichiosis, Rocky Mountain Spotted Fever, Tularemia and Bartonella. Certain co-infections require different treatment after being infected with Lyme.
Lyme Disease is often called "the great masquerader" because of its ability to mimic other illnesses. Early in the infection patients may have flu-like symptoms including headache, stiff neck, fever, muscle aches, and fatigue. Early symptoms usually disappear and serious multi-systemic problems may start later. Late symptoms include: "Lyme Arthritis" with joint pain and swelling; heart disease; neurological problems such as Bells Patsy; dizziness; irritability; ADHD-like symptoms; memory and concentration impairment; word finding difficulties and muscle weakness. The symptoms can imitate other diseases such as Lupus, Multiple Sclerosis; Parkinsons, and Lou Gehrig's (ALS) and may be misdiagnosed.



May Is Lyme Disease Awareness Month In Florida!
Click here to view Governor Rick Scott's Proclamation

Ticked - The Battle over Lyme Disease in the South
See Dr. Kerry Clarks's recent contribution to Discover Magazine
Click Here To Download The Document

The Confounding Debate Over Lyme Disease in the South
Click Here To Read Article
Listen to Dr. Clark (radio interview #1) by clicking here!
Listen to Dr. Clark (radio interview #2) by clicking here!
See Dr. Kerry Clark's new publication below:
Lyme Borreliosis in Human Patients in Florida and Georgia, USA

---
2013 Web.com Tour Championship

Buy your tickets today and know you will be supporting Lyme research! 100% of the funds raised by NEFLA as part of the tickets for charity program will be donated to the University of North Florida for Dr. Clark's Lyme Research.
When: September 26-29
Where: Dye's Valley Course at the TPC Sawgrass
Cost:  $15.00 per admission
NEFLA will receive a $10.00 donation from PGA TOUR, Inc. for every $15.00 ticket sold using the PUTT code.
How? Click on the link below to purchase your tickets and type "PUTT" in the Code Box

www.teeitupforcharitytickets.com
---
Lyme Disease 10 Times More Common Than Previously Reported    

Health officials say Lyme disease is about 10 times more common than previously reported. The Centers for Disease Control and Prevention says as many as 300,000 Americans are actually diagnosed with Lyme disease each year. Previously, the CDC said the number ranged from 20,000 to 30,000. But CDC officials have known that doctors don't report every case, and the true count was probably much higher. The CDC surveyed labs and reviewed insurance information to come up with a better estimate, which was released Monday.
Lyme disease is caused by a bacteria transmitted through the bites of infected deer ticks. Symptoms include fever, headache and fatigue. It is treated with antibiotics. In the U.S., cases are most common in the Northeast.
---
CDC Press Release - CDC provides estimate of Americans diagnosed with Lyme disease each year
Preliminary  estimates released by the Centers for Disease Control and Prevention indicate  that the number of Americans diagnosed with Lyme disease each year is around  300,000. The preliminary estimates were presented Sunday night in Boston at the 2013 International Conference on Lyme Borreliosis and Other Tick-Borne Diseases.
---
 

Lyme Disease: The Southern Myth

JACKSONVILLE, Fla. -- In 2006, an outgoing and healthy Andrea King became very sick. She became extremely tired, had muscle aches and a fever, but nine doctors later she still didn't have a diagnosis. It wasn't until 10 months after the on-set of symptoms that was finally diagnosed with Lyme Disease, which comes from getting bitten by an infected tick.
---
LYME SUPPORT GROUP IN JACKSONVILLE, FL - NEW LOCATION ROOM 832!
Cindy Durden will host a Lyme Support Group meeting at the Mandarin Methodist Church on Thursday February 20th, at 7:00pm. The group meets every third Thursday of the month. Her email is This email address is being protected from spambots. You need JavaScript enabled to view it. and number 904-434-2005. The church address is 11270 Jose Blvd. Jax. Fl. 32223. We meet in room 832 on the second floor of Building A. 
---
LYME SUPPORT GROUPS IN GAINESVILLE - OCALA  FL.
1-Carolyn Munroe, RN, BS, MEd, CDDN will host a Lyme Support meeting at the Northwest Baptist Church. The group meets every third Saturday of the month from 1:30 to 3:30pm. The address is 5514 NW 23 Ave, Gainesville Florida 32606. Classroom B-9. Call Carolyn Munroe at 352-226-7000 cell and email This email address is being protected from spambots. You need JavaScript enabled to view it. . Thank you Carolyn for forming this new support group.
2-CYM Coffee Shop, 5402 NW 8th Avenue,  Gainesville, Fl. Every second Friday of the month at 10:00am. Inside the white picket fence.  Corner of 8th Avenue and Newberry Road. Contact Ann Moore at This email address is being protected from spambots. You need JavaScript enabled to view it. . Please RSVP for seating!
3-Ocala Library, every 4th Saturday of the month from 11:00 am to 2:00pm. Contact Elizabeth Eagerton at This email address is being protected from spambots. You need JavaScript enabled to view it.  
---
Walter Snow has a LYME LIBRARY.
Contact Walter if you want to check out a book from the LYME LIBRARY at This email address is being protected from spambots. You need JavaScript enabled to view it. .
Amy Alex has prepared a LYME PRESENTATION for FLDA.This free educational program is available for all community groups and organizations. Please call us at 904-631-6536 or contact us by email to schedule your presentation.
---
NICHOLAS BROWN PRESENTATION - PONTE VEDRA LIBRARY - WEDNESDAY, 6-19-13, 7:00PM
Nicholas Brown is a 17 year old junior at Episcopal High School of Jacksonville and Life Scout with Troop 288. He will give a power point presentation on Lyme Disease Prevention and Education. This will occur at the Ponte Vedra Library on Wednesday 6-19-13 at 7:00 pm. The Library is located at 101 Library Road, Ponte Vedra Beach, Florida 32082.

The email address is This email address is being protected from spambots. You need JavaScript enabled to view it. and the phone is 904-827-6950. The presentation can be viewed in our Resource section.
Nicholas has been active with the Cub Scouts and Boy Scouts since the age of 7. He has participated in all Boy Scout high adventures (Northern Tier, Philmont, and Sea Base). Four family members have tested positive for Lyme disease and are currently undergoing treatment.

Troop 288 was founded in 1988. The troop has about 60 scouts and over 15 adult leaders. It's located in Ponte Vedra Beach, FL. and is chartered by the Ponte Vedra United Methodist Church. Troop 288 is part of the Osceola District and the North Florida Council.  Hiking and other outside activities are available to the scouts on a monthly basis in North Florida and South Georgia. An annual week-long summer camp is open to all scouts (Florida, Georgia, and North Carolina.)
---
University of North Florida Brooks College of Health Donation
On Tuesday, May 8th, NEFLA presented a $20,000.00 contribution to the University of North Florida Brooks College of Health to support the research of Dr. Kerry Clark on lyme and related tick borne disease in the southeast U.S. From left to right Dane Boggs, Aimee Boggs, Dr. Pam Chally, Dr. Kerry Clark and Dr. Pierre Allaire. More photos coming. Also in attendance NEFLA Board members Andrea King, Joe Crozier, Mary Jaycox and Julie Klapstein.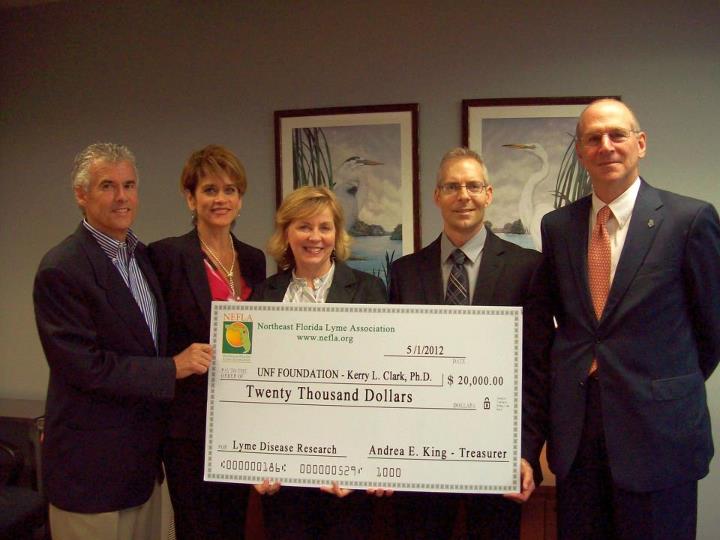 ---
Watch The Movie Under Our Skin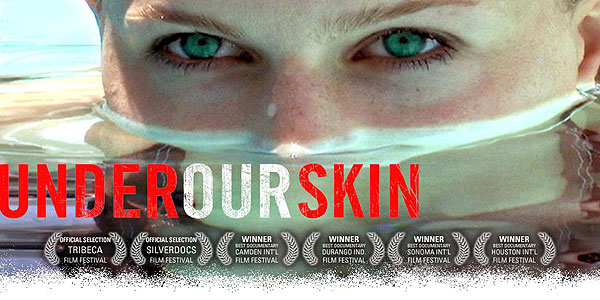 Watch by clicking here order from www.underourskin.com.
---
FLDA LYME SUMMIT NOVEMBER 11-12, 2011
TICK TALK : TIME TO EXPOSE FLORIDA'S LYME DISEASE
To View Photos Of The Event Click Here
To Order Lyme Medical Conference CDs for $39.00 contact us at this site or call Dane Boggs at 904-631-6536.